Charges Pressed against Former GERB MP Zhivko Martinov
On 31 July, the specialized anti-corruption unit at Sofia City Prosecutor's Office pressed charges against Zhivko Martinov, a former MP from the 44th National Assembly, for six separate crimes.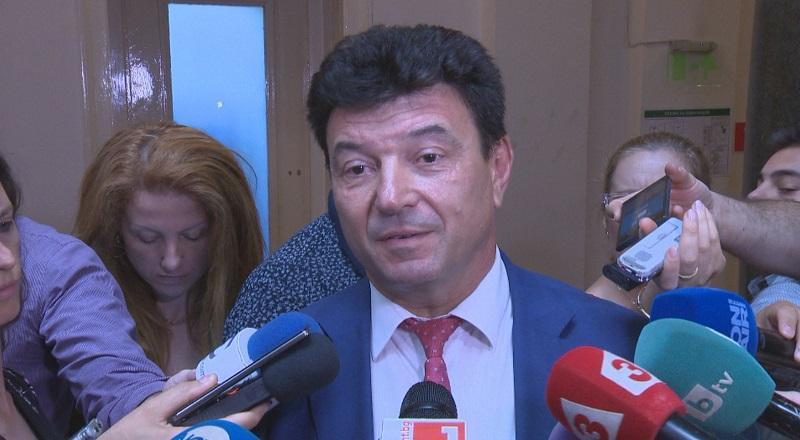 The specialized anti-corruption unit at Sofia City Prosecutor's Office pressed charges against Zhivko Martinov, a former MP from the 44th National Assembly, for six separate crimes.
Martinov is charged with extortion. He sought to extort 15,500 BGN (about 7,925 euro) from an individual. On this charge, Martinov could face 5 to 15 years of imprisonment and a fine from 5,000 to 10,000 BGN.
The second charge is over issuing of a death threat. If found guilty, Martiniv, could face up to 6 years of imprisonment. He is accused of extorting A.P. in the period between the start of 2012 to the start of 2013, in the city of Dobrich, in the conditions of continuing crime. Martinov allegedly threatened A.P. with heavy consequences, saying that A.P. will be arrested, that he will send tax inspections to A.P. to "smash his companies" unless Martinov was given, free of charge, a total of 4 tonnes of raw dried spicy sausage (sudjuk) of beef, deer and pork and 60 kg of fillet "Elena" and beef dried meat.
Martinov is alaso charged with obstructing justice in the case of a person who had caused the death of two people through negligence. For this, he faces up to 5 years in priosn, if found guilty.
Another charge is related to threatening Ministry of interior officials in Dobrich and Balchik to force them to carry out official duties. If found guilty, the sentence may be of up to six years of imprisonment.
Martinov is also accused that in April 2017 he attempted to force the director of water supply in the city of Dobrich to fire a specific employeein regard to appointments and dismissals of staff. If guilty of this charge, Martinov faces up to six years in jail.
Zhivko Martinov is also accused of having attempted in April 2017 to force the Director of the Water Supply in the city of Dobrich to do something contrary to his will - to dismiss a specific employee and to stop appointments and dismissals in the company for a certain period of time, having overstepped his powers as MP and used threats. For this crime, the law provides for an imprisonment of up to 6 years.
Zhivko Martinov there is out on bail of BGN 45,000, required to be paid within 10 days period.
The Prosecutor's Office said that charges were pressed against Rosalina Brayova, the Director of the regional directorate of food safety in Dobrich, arising from evidence gathered during the course of the investigation into Martinov. Prosecutors accused Brayova of violating her official duties by issuing an order to a company to suspend operations without having any legal grounds for her to issue the order. The company is owned by a person who reported the signal for Martinov's violations to the authorities and is a witness in the case against him.
The suspension order was issued without any evidence of consumers having complained about the food offered at the site, with no evidence of advrse health consequences from the food consumed at it and with no evidence that the company had committed any irregularities, prosecutors said.
As a result of the order, significant material and non-material damages to the company have occurred, resulting in financial losses and loss of profits for the period during which the entity was unable to operate. Braikova's actions are defined as a criminal offense punishable by "imprisonment" from one to eight years, and Braikova has imposed a "money guarantee" amounting to 5,000 BGN, payable within 10 days.
On 25 July, Zhivko Martinov, an MP from Borissov's GERB party, quitted his seat in Parliament after on 21 July, Bulgaria's Chief Prosecutor, Sotir Tsatsarov, sought to lift his immunity from prosecution. The chief prosecutor said that Martinov used Prime Minister Boyko Borissov's name to exert pressure on a businessman in the city of Dobrich for the purpose of gaining benefits for himself and the party.